Vanity HD
---
Vanity HD series
High-resolution multichannel digital output modules for BDP-103 with re-clocking and advanced DSD processing
The launch of Vanity – a high resolution digital audio output module – in 2006 enabled all audiophiles owning a stand-alone external digital to analogue converter to play back high resolution material in full digital quality. With the onset of the Blu-ray format, developments of digital home theatre and the spread of multi-channel recordings, it was becoming ever more apparent that a good signal source for fully digital multi-channel amplifiers and high-end rigs was absent on the market.
This has been true – up to now!
The Vanity103 continues the product range started by its two-channel predecessor designed for universal DVD players. It enables to turn the OPPO BDP-103 player into an eight-channel high-end digital transport. This player is highly praised for its versatility, reliability and ease of upgrading its output circuit boards. The Vanity103 is an add-on module that can simply replace the analogue output circuit boards of the BDP-103 with full resolution digital outputs.
Available in AES version, SPDIF version, or in a DoP SPDIF version.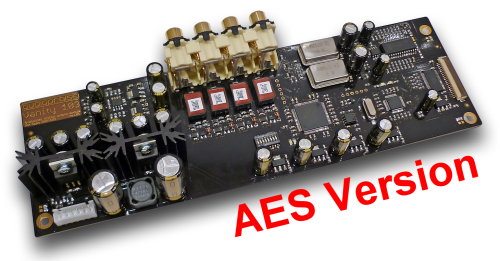 Priser
AES Version 10 995:-
SPDIF Version 8995:-
Dop SPDIF Version 8995:-