Screen Research, a world-class provider of innovative projection screen solutions designed for custom Home Theater and professional Cinema applications, is pleased to announce a completely new line of products:
Screen Research revolutionized Hi-end Home Theater market when it introduced the ClearPix™ line of acoustically transparent materials. For the first time it was possible to create a reference home theater experience without any compromise to picture or sound quality.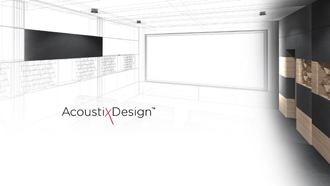 Based on our experience of more that 10 years of continuous acoustical research and development today Screen Research announces the worlds first solution that fully integrates complete room acoustics design with a world-famous Italian interior design and it is hand-crafted and manufactured in Italy with extreme attention to even the smallest details.
It allows a great freedom for architects and interior designers while completely hiding all AV equipment and acoustical treatment of the room.
Sasha Defranceschi, Screen Research Technical Director: "AcoustixDesign™ is not a simple line of products, it is a completely solution based approach that guarantees maximum possible performance result at each price level. Dedicated Home Theater rooms are often designed with a lot attention on AV products selection, but not as much on the acoustical performance of the room and proper product placement. Our custom solution based approach allows to extract maximum performance from any audio system not only with a room acoustics design but also with a proper loudspeaker placement and full integration with room acoustical treatment and aesthetics. Our goal is not to create only the reference picture quality, but now also the best possible audio performance in any dedicated or not dedicated Reference Cinema experience space."
This year Screen Research has partnered again with JBL Synthesis to create our Reference Cinema Experience room at ISE booth 1N80. We will demonstrate Screen Research E-Mask™ 140" 2.40:1 ClearPix4K masking screen with complete AcoustixDesign™ room acoustics treatment that is fully integrated with JBL Synthesis ATLAS sound system. All AV equipment is completely hidden away using a signature Italian design solution.
A very limited number of tickets will be available each day on our booth. Please note that it is not possible to attend a demonstration without registering first at booth 1N80.
A dedicated press demo sessions will be held on Tuesday 4th from 15:30-16:00 and Wednesday 5th from 16:00-16:30 booth 1N80.