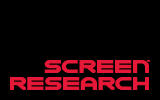 March 2013
Screen Research, a world-class provider of innovative projection screen solutions designed for custom home theater applications and professional cinema installations, is proud to announce the launch of its latest screen material:
ClearPix™ 4K White 1.0
This new ClearPix™ 4K screen material is specifically designed for new Ultra HD resolutions up to 4K and beyond. Its patented non-geometric structure allows sound to pass through with no attenuation and therefore no modification of the loudspeaker response curve is necessary. A perfectly flat-spectral color response is maintained even off-axis throughout the whole recommended viewing angle.
Sasha Defranceschi, Screen Research Technical Director: "With the introduction of the first ClearPix™ screen material, Screen Research redefined reference Home Theater experience. For the first time it allowed for proper positioning of loudspeakers behind the screen, without any compromise for picture or sound quality. ClearPix™ 4K brings this concept to another level. Our goal was to design a new reference 4K screen material while preserving the industry leading acoustical transparency of ClearPix™ 2. What we have managed to achieve has surpassed by far our best expectations: ClearPix™ 4K offers reference 4K video performance and doubles the acoustical transparency of ClearPix™ 2. That means that ClearPix™ 4K with our StopLight™ Black Backing has the same acoustical transparency of just the ClearPix™ 2 screen material by itself. We are very proud to extend our lead in the industry with this achievement."
"The ClearPix™ 4K is THX® Certified, signifying it passed hundreds of tests ensuring superior video and audio performance. Our engineers tested everything from Moiré effect and off-axis viewing angles to audio attenuation and frequency response, confirming it delivers excellent acoustical transparency," said Peter Vasay, Vice President Technology Operations at THX® Ltd. THX® certification is a warranty to consumers of uncompromised quality, ensuring that both the picture and audio soundtrack are reproduced with the same clarity and detail as in the studio.
Features:
•Reference performance matte white screen material
•True acoustic transparency
•Designed specifically for 4K Ultra HD resolutions and beyond
•Compatible with controlled light conditions
•Perfect color balance and white field uniformity with no hot spots
•Moiré-free
•Patented design
•THX® certified ensuring best-in-class video and audio performance
•ISF® certified ensuring best-in-class video
The ClearPix™ 4K White 1.0 technical data sheet is available at this link.
For pricing, please refer to the new Screen Research price list that will be released before the end of March 2013.
The Configurator on the Screen Research website should be fully updated by early April 2013.
THX® is a trademark of THX® Ltd., registered in the U.S. and other jurisdictions. All rights reserved.
ISF® is a registered trademark of Imaging Science Foundation, All rights reserved.