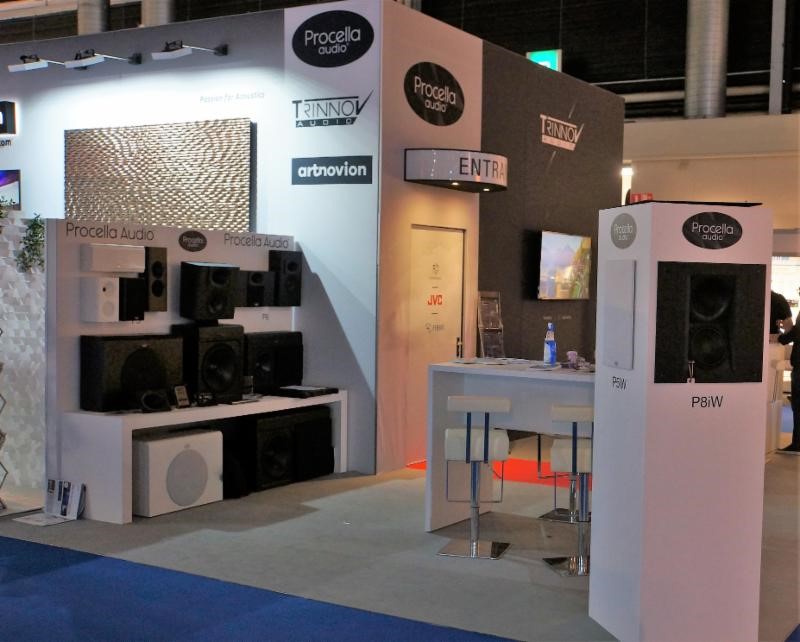 Well, we're finally getting around to updating you on yet another record-breaking ISE show! And by a consensus of visitors to our booth, once again the Procella/Trinnov combination of speakers, amplifiers and digital acoustical processing achieved world-class performance. Click here to see Chuck Back's Rave Publications show video. Overall, the show was incredibly well attended, and we easily met our goals of meeting with distributors and dealers, prospective new dealers from across the globe. We had a constant stream of visitors queuing up, starting on day one, coming to hear our 11.4.6 immersive audio demo system.
With demo cuts ranging from Guardians of the Galaxy to Dunkirk, Gravity, Spiderman Homecoming and Wonder Woman, listeners heard a very natural sound with real cinema impact when it was called for (which was frequently!). Throughout the show, the crowds filled all 15 seats with many demos running with listeners standing in the back of the room.
Unlike past years, where we showcased P815s as the main speakers, we chose to present a more moderately priced system to demonstrate the consistently high level of Procella speakers at all price levels. We chose to go with P8s for the L/C/Rs (located above a solid screen), with P5Vs and P5s used for the surround and height channels. In the same custom-built 7.3 x 5 x 4m theatre as last year, the P8s and P5s were easily able to achieve the Procella Effect of incredibly powerful and dynamic immersive sound.
Anders created a unique multi-subwoofer configuration, using one V18, one P18, and two P15 subs. The V18 was located in the baffle wall and used exclusively for the LFE channel. The P18, also located in the baffle wall, was fed the redirected bass below 80 Hz from the left, center and right channels. One P15 was located on the right side wall, handling the low frequencies for just the right side surround and height channels, while the left side wall P15 was used just for the low frequency content of the left surround and height channels.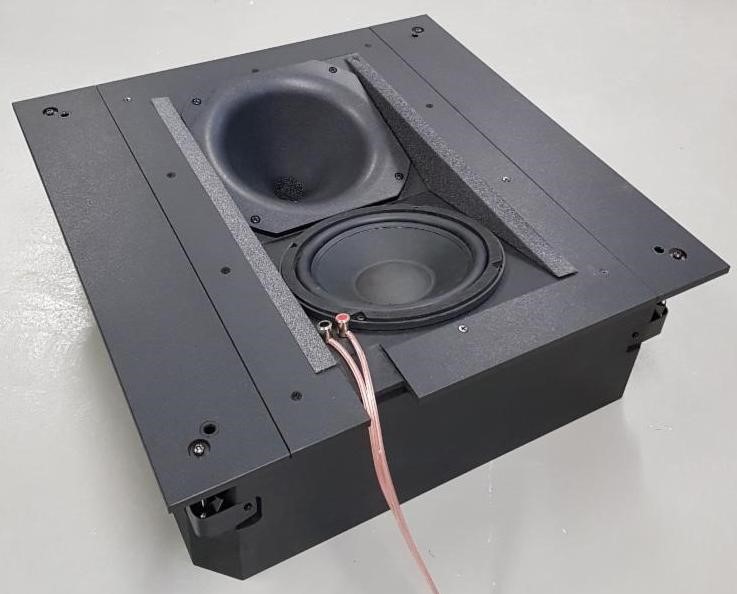 We showed for the very first time the P8iW high-output in-wall speaker and the very high-power DA08-DSP power amplifier. The P8iW was on a static display, while two DA08-DSPs were used to drive the V18 and P18 subwoofers. Interest in the P8iW is already high among dealers looking to design advanced immersive audio systems, with several projects already in the planning stage. The DA08DSP maximizes the performance of the awesome V18, P18, and V6 subwoofers by delivering double the power of the DA06-DSP. Look for the DA08-DSP in the late spring and the P8iW in late summer or the early fall.

The 11.4.6 Atmos/Auro-3D/DTS:X demo system consisted of:
• 3x P8 L/C/R channels
• 2x P5V wide channels (one left, one right)
• 4x P5V side surrounds (two left side, two right side)
• 2x P5V back surrounds (one left, one right)
• 6x P5 height channels (three left, three right in an Atmos configuration)
• 1x V18 Bass Engine subwoofer, driven by Procella DA08 power amp
• 1x P18 subwoofer, driven by one Procella DA08 power amp.
• 2x P15 subwoofers (one left side, one right side
• 3x Procella DA06DSP power amplifiers (for the L/C/R speakers)
• 2x Procella DA08DAP power amplifiers (one for the V18, one for the P18)
• 2x Procella DA06-DSP power amplifiers (one for each P15)
• Trinnov Altitude32 AL-1624 24-channel processor
• 2x Trinnov Amplitude8 power amplifiers (for all surround and height channels)
• Artnovion absorbers and diffusors for room treatment on all walls and ceiling
• Kaleidescape Strato server
• JVC DLA-Z1 4K HDR laser projector
• Screen Research solid projection screen
We'd like to thank our booth partners Trinnov Audio, Artnovion, Kaleidescape, JVC, Fibbr, and Screen Research. We're already booked to be back next year with another reference-quality demo system. See you in Amsterdam next February!