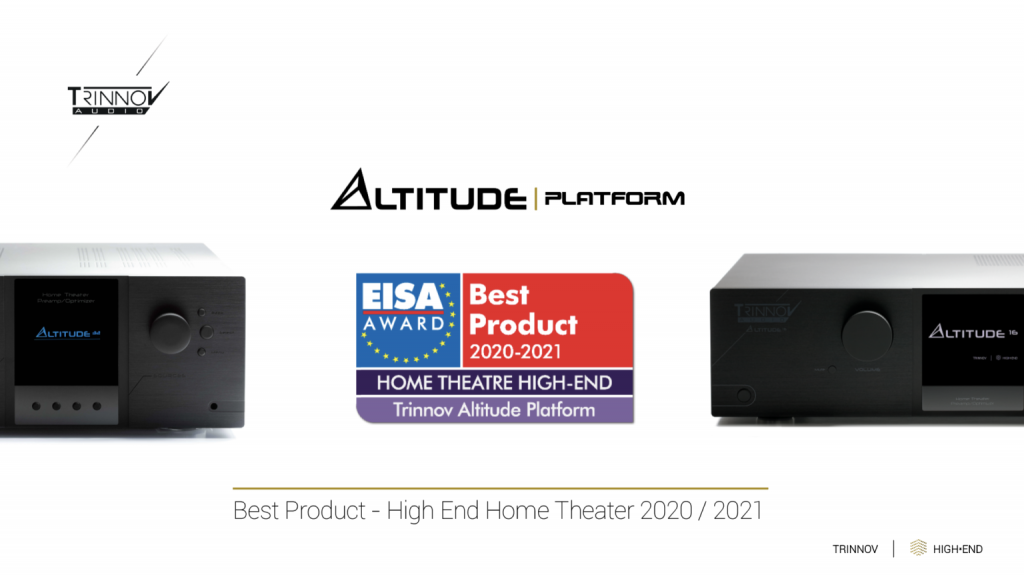 The Altitude Platform Earns its Second EISA Award
The European Imaging and Sound Association is a group of 61 specialized magazines from 29 countries across the globe. EISA represents the largest editorial collaboration in the world of consumer electronics and has been celebrating the very best products for over 35 years.
Every year, several expert groups within the association select the best products in several categories.
In 2016, a little more than a year after the introduction of the Altitude32, Trinnov received its first EISA Award, recognizing the achievement of our engineering team in creating what remains today The Reference High-End AV Processor.
Now, a few years later, Trinnov becomes the first manufacturer ever to receive a second award for the same product line. This is a very meaningful milestone, particularly for its recognition of the importance for today's products to be built for both performance and sustainability, and its acclaim for how the Altitude platform meets these goals.
Best Product 2020-2021 – Home Theater High-End
Rather than rewarding a specific product as is usually the case, EISA members agreed to review and reward the Altitude Platform in the High-End Home Theater category.
Here is the citation from EISA's president Paul Miller:

"In the world of home theater, rapid technological change can leave a product playing catch up in just a few years. Not so the Altitude series from Trinnov, where upgrading is built into the DNA of its 16-channel and 32-channel processors. Most recently these premium models have added DTS:X Pro support to their 3D audio arsenal, and a revised HDMI board to enhance connectivity and streamline operation. Performance remains best-in-class, too, thanks to professional-grade speaker calibration and bass management, while system designers benefit from remote access and control. State-of-the-art today, but designed to evolve with your needs tomorrow, the Altitude platform is worthy of high praise."
Successfully combating obsolescence
This award is unique in that it recognizes the accomplishment of Trinnov Audio over a period of 5 years, starting when the platform upon which the Altitude32 was built received its first EISA award in 2016. The Altitude products have been continuously upgraded and improved, enabled by our revolutionary software-based platform, with multiple major updates delivered at no cost to all Altitude owners every year.
As such, all of our customers received the following features as free updates dating back to the original introduction of the Altitude:
2015: Auro-3D decoding and upmixing is added
2016: DTS:X is available on the Altitude before any other product
2017: The Altitude becomes the first Roon-Ready High-End Home Cinema Processor
2018: Bass management is significantly improved, offering yet to be matched possibilities
2019: Trinnov introduces an Easy Setup Wizard and extends the product warranty from 3 to 5 years, retroactive
2020: After a year of close collaboration with the DTS engineering team, DTS:X Pro is officially released and remains available only on the Altitude platform
Over this period, Trinnov Audio has not only maintained its significant technological advantage over the competition but actually further widened that technological gap by pushing the boundaries of immersive audio. Highly notable, our most recent achievement is the introduction of DTS:X Pro to the market, single-handedly carried out by our engineering team, working with DTS.
We are proud to announce we will continue to push the boundaries with additional updates coming this year and more to come well into the future. In September, we will indeed introduce a unique Object Viewer for Dolby Atmos soundtracks that allows our users to monitor in real-time the way sound objects move through the room.
For too long, Home Theater enthusiasts who wanted to own the best had to renew their processor every 3-4 years. With the Altitude platform, this is no longer the case. We hope that other manufacturers will follow this path, creating products that are more sustainable and delivering higher long-term value to customers.