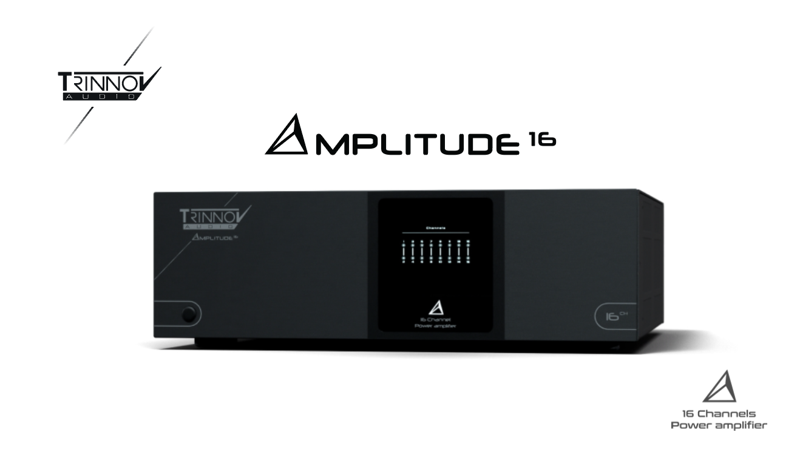 Trinnov Audio is pleased to announce the release of a new high channel count power amplifier, the Amplitude16.
Designed for immersive home theaters, with custom integration in mind, the Amplitude16 becomes perhaps the most versatile power amplifier available today, providing integrators with the unique ability to meet diverse channel counts and power requirements with exceptional rack efficiency.
Effectively two 8-channel amplifiers on a single 3RU chassis, the Amplitude16 has dual power supplies, each requiring its own 15A AC mains power inlet. In its base model,
it is a 16-channel power amplifier with a continuous power rating of 200W/channel at 8 ohms and 400W/channel at 4 ohms *.
Going beyond, the Amplitude16 provides the integrator with the option to bridge pairs of amplifier channels to increase available power for specific outputs. This enables the integrator to maximize power for the channels with the greatest demand (e.g., left, center, and right screen channels). In bridged mode, the power for one channel increases to 800W/channel at 8 ohms and over 1,000W/channel at 4 ohms. **
When we set out to create a new companion amplifier for Trinnov's Altitude processors, we recognized that just another power amp would not do. It needed to be something special to carry the Trinnov name, and the Amplitude16 indeed fits that description," said Arnaud Laborie, Trinnov CEO. "Its unique versatility provides integrators and system designers with a great-sounding, powerful tool for optimizing dynamic power delivery by channel in a space-saving, cost and energy-efficient manner.
Anticipating future advanced applications, another unique feature of the Amplitude16 is its optional Dante input board, which provides an option for connecting the amplifier to any Altitude processor via a network switch. This optional board also includes functions for monitoring the amplifier hardware status.
On a related note, Trinnov Audio is announcing the future compatibility of all Altitude processors with Ravenna/AES67 later this year, as a free update. Dante provides an AES67 compatibility mode, making it easy to integrate Altitude processors with the Amplitude16.
Balanced analog input to the Amplitude16 is enabled through dual Tascam pinout DB25 connectors, which eliminate the need for up to 16 individual XLR connections, making for a much more efficient connection and rack dressing.
Designed in partnership with ICEpower, according to Trinnov specifications, the Amplitude16 maximizes the performance of their class D modules, to deliver outstanding sound quality and the best possible immersive experience in a compact form factor creating very little heat.
The input sensitivity of the Amplitude16 is optimally matched to the output level of Trinnov's Altitude audio-video processors, maximizing the system's signal-to-noise ratio and dynamic range. Signal-to-noise performance is typically improved from 6 to 8 dB compared to power amplifiers with conventional input sensitivity.
A front panel LED display identifies normal operation, channel clipping, protection, and bridge status for each pair of channels. Trigger inputs and outputs are provided to power on the amplifier and to daisy-chain other amplifiers in the system.
Initial shipments of the Amplitude16 are scheduled to begin December 2021.
The optional Dante/AES67 input board is expected later, in 2022. The Amplitude16 will be showcased and introduced to the public at the Paris Audio Video Show from October 21st to October 24th. For more information or to  pre-order contact your local dealer or integrator or go to www.trinnov.com.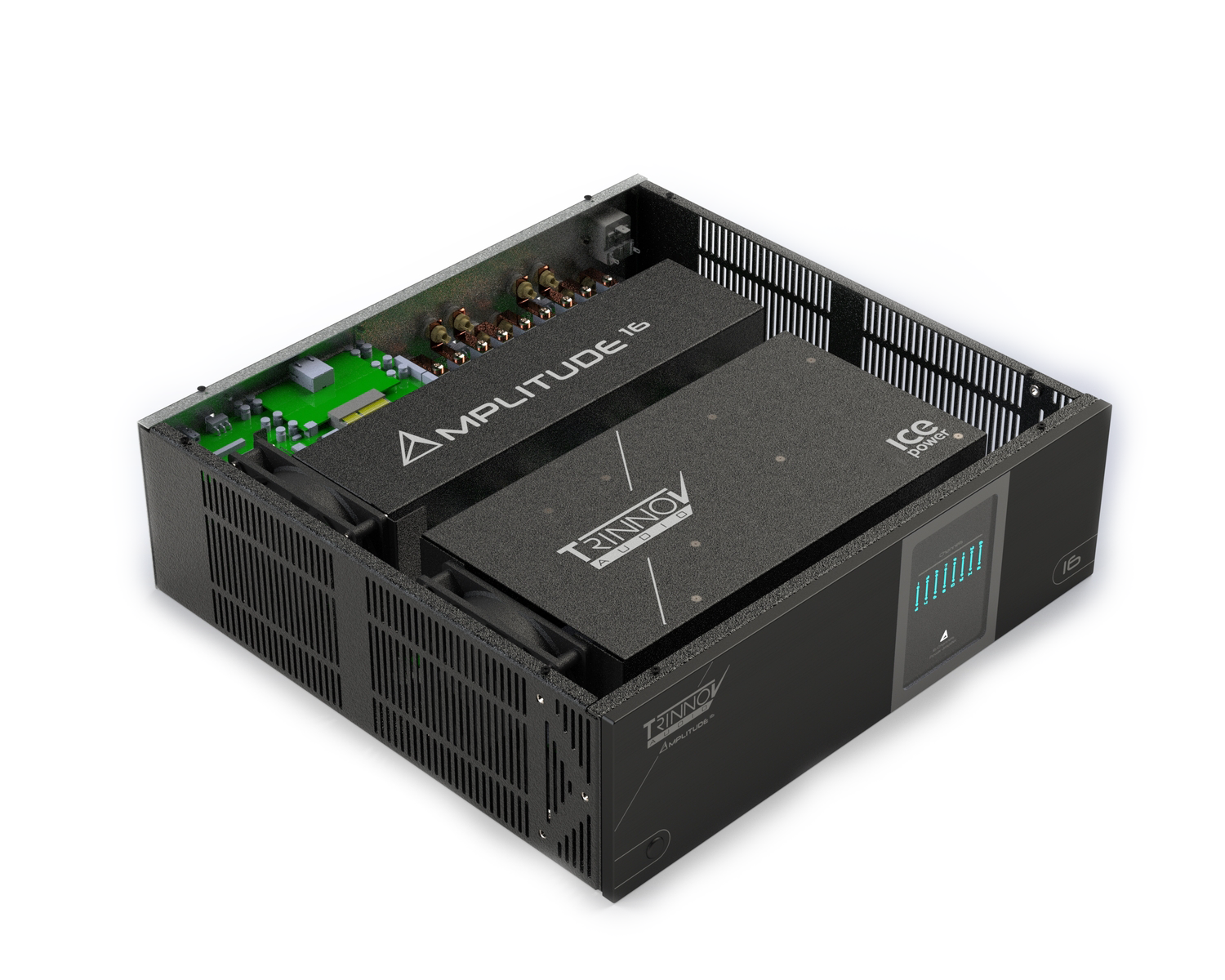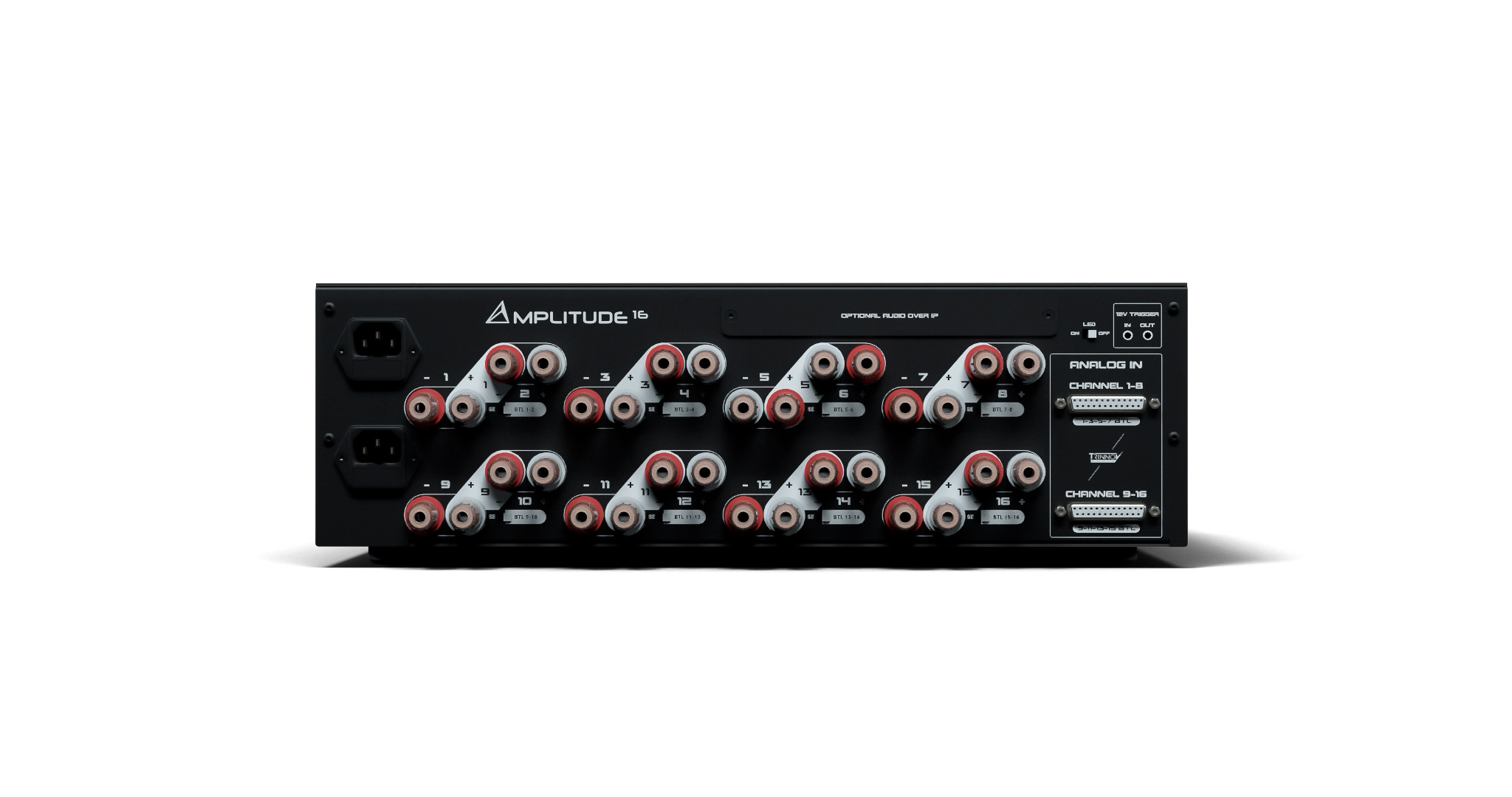 * Maximum continuous power with all 16 channels driven is 2800W at 115V and 3200W at 230V with less than 0.1% THD+N
** Peak Power with all channels driven is 6080W with 1% THD+N