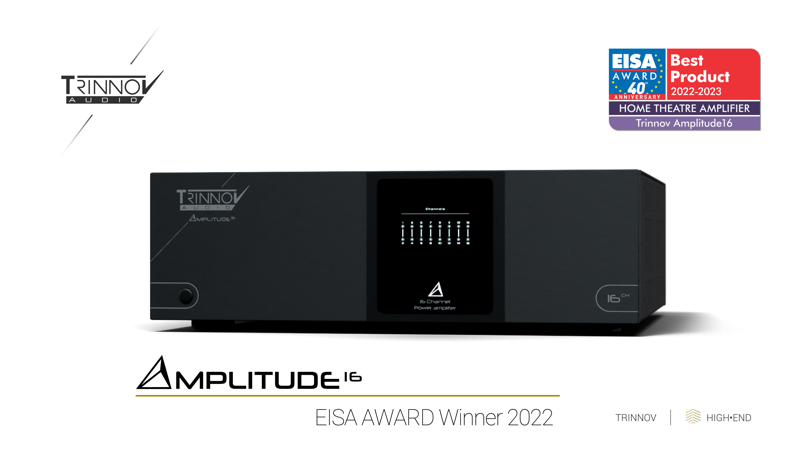 Our entire team is delighted to receive yet another award from the European Imaging and Sound Association.
Indeed, the Altitude Platform was honored with an EISA Award in 2020 as Best Product in the Home Theater High-End category. That came 4 years after the Altitude32 received the same award.
To complete our range of AV Processors and Amplifiers, we released the Amplitude16 last year, which we designed specifically to meet the various needs of Immersive Sound. 
As modern movie sound formats demand more loudspeakers, system builders need more amplification. Trinnov's Amplitude16 answers the call, wrapping 16 channels (rated at 200W/8ohm) in a rack-sized, all-metal chassis that's a smart cosmetic match for its multichannel Altitude16 processor. The unit's two eight-channel modules, designed in collaboration with Class D specialist ICEPower and fed by independent power supplies, deliver an astonishingly dynamic performance. In practice, the Amplitude16 blends controlled, deep bass with effortless speed and purity of tone – it's a high-end powerhouse that will get the best from any loudspeaker system, and marks a thrilling addition to the Trinnov fleet – Paul Miller, EISA President
The result is what we aimed for, and we are grateful to see that our efforts are being acknowledged by specialized press, home cinema specialists and enthusiasts.
Performance and sustainability are at the heart of our design philosophy, and we are pleased to be able to offer a complete and consistent package that will increase the overall performance of our customers' home cinema. The addition of a very cost-effective, high performance and versatile 16-channel power amplifier such as the Amplitude16 to our range of award-winning and industry leading processors is a logical step that increases Trinnov's impact to the industry. ICEpower has been a great partner and delivered the performance that we required – Arnaud Laborie, Trinnov's co-founder and CEO.