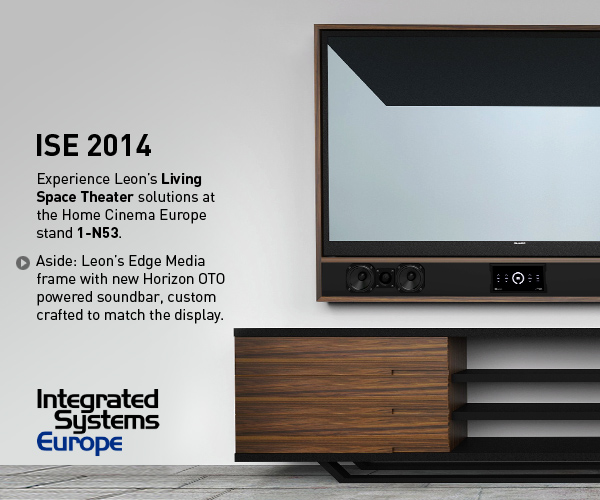 This year at ISE, we are proud to be joining an elite group of brands in the Home Cinema Europe stand. Please join us at stand 1-N53 where we'll be featuring an array of bespoke theater products that show off our commitment to mixing art with audio and design with technology.
For the first time inside a controlled environment, we'll be demonstrating a full 7-channel SEVEN Series theater with partners ADA, Screen Innovations, Display Development, DVDO, Fortress Seating and more. Our flagship SEVEN Series speakers are the culmination of all we do – they are custom built by our finest craftsmen to exacting specifications and tuned to perfection. Paired with our reference-grade Ultima surround speakers and our award-winning Aaros subwoofers, this take on the modern media experience will be sure to please even the most discerning audiophile.
Outside the theater, we will be presenting our concept for Living Space Theater™. As the modern home plays host to modern technology, Leon offers custom sound solutions that can be tailored to match any environment. Our EDGE Media Frame (shown above) seamlessly integrates your display, and perfectly conceals the top, bottom and sides of the TV. It can be finished in any paint color or hardwood to fit elegantly into any design. Complete with our new Horizon OTO powered soundbar that is custom-crafted to match any width, this system stands out by perfectly fitting in.
Be sure to stop by for a full demo of all of our products and to learn more about what's in store for 2014. For more about Leon Speakers, please visit www.leonspeakers.com. For inquiries about becoming a dealer, please email info@nsht.se.