The DreamScreen UltraHD V5 is our 5. generation sound-transparent fabric. Throughout the last 8 years we have tested, prototyped, produced and sold a number of various technical solutions.
The ultraHD V5 is sold in packages of 4×1,6m of fabric and includes attachment-modules that is made to fit our V4 and V5 frames. However, the attachment-modules are easily adoptable also for DIY-projects where the module is glued either to a wood-stud or an existing aluminum frame.
V1: Dual layer vinyl weave (white) + knitted (grey). Glued. Single reflecting layer.
V2: Dual layer knitted fabric, grey + white. Glued. Single reflecting layer.
V3: Single layer knitted fabric grey only. Single reflecting layer.
V4: Single to three-layered separate layers fabric / synthetic weave. Tensioned, not glued. Single reflecting front layer.
-V5-: Three layered weave + knit. Glued. Multiple reflected layers. PATENT PENDING.
Our technology
Our fifth generation fabric utilizes the research and development gathered in V1 through V4, where for our 5. generation we found that utilizing several layers that actually reflects in combination rather than one front layer reflecting the image alone would potentially increase both image quality and sound transparency. Please refer to the attachment 1,"Technincal Drawing". Please refer to Fig. 2B and 3 for our new solution and the present solution depicted in figure 2. This design is patent pending and will be patented in all vital markets, including Norway, EU, USA, Japan and China. Utilizing several reflective layers, we have been able to combine a very fine, weaved front surface with two additional knitted layers, one white or grey (same color as front layer), as well as a black backing layer. The result is a sharp, dynamic, high-resolution image free from common artifacts such as moiré and visible structure even from very short seating distances (2m or less). The sound transparency is also dramatically improved compared to our previous generations using the multi-layered method. Please refer to the following initial measurements, basically speaking for themselves. These measurements include all three layers (front, middle and black backing-layer).
TECHNICAL DRAWINGS (4-LAYERED EXAMPLE, V5 IS 3-LAYERED. PATENT COVERS ANY NUMBER OF REFLECTIVE LAYERS)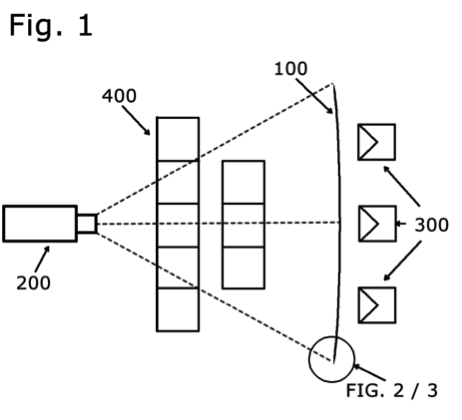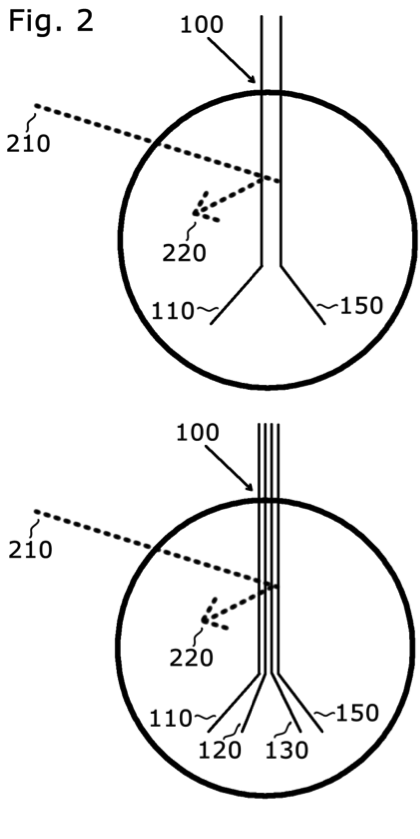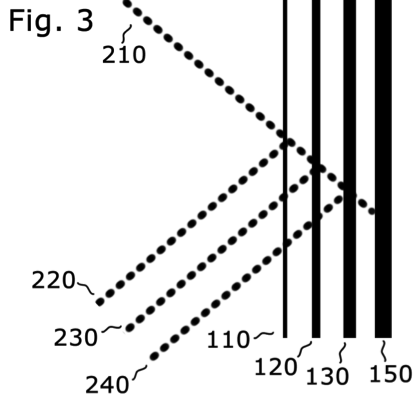 Fig. 1:  200 – projector : 400 – seating : 100 – sound transparent projection screen : 300 – speakers Fig. 2: 100 – regular sound transparent fabric : 210 – projected beam : 220 – reflected beam : 150 – black backing : 105 – front fabric Fig. 2b: 100 – V5 sound transparent fabric : 210 – projected beam : 220 – reflected beam : 110, 120 and 130 – front fabric : 150 – black backing Fig 3: 210 – projected beam : 220, 230 and 240 – reflected beam : 110-150 as fig. 2b
INITIAL ACOUSTIC MEASUREMENTS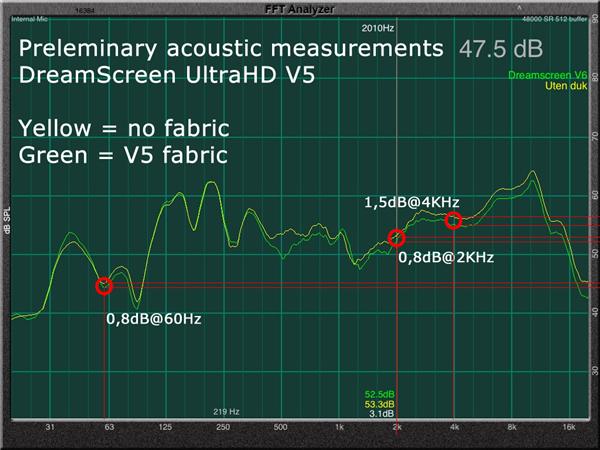 Comments: initial measurements include all three layers of the V5-fabric (including the black backing). Initial measurements indicate class-leading acoustic performance with a max drop of about 1,5dB and an average drop of about 1dB. Measurements were made in a noise-controlled environment by a professional HAA certified and equipped calibrator.